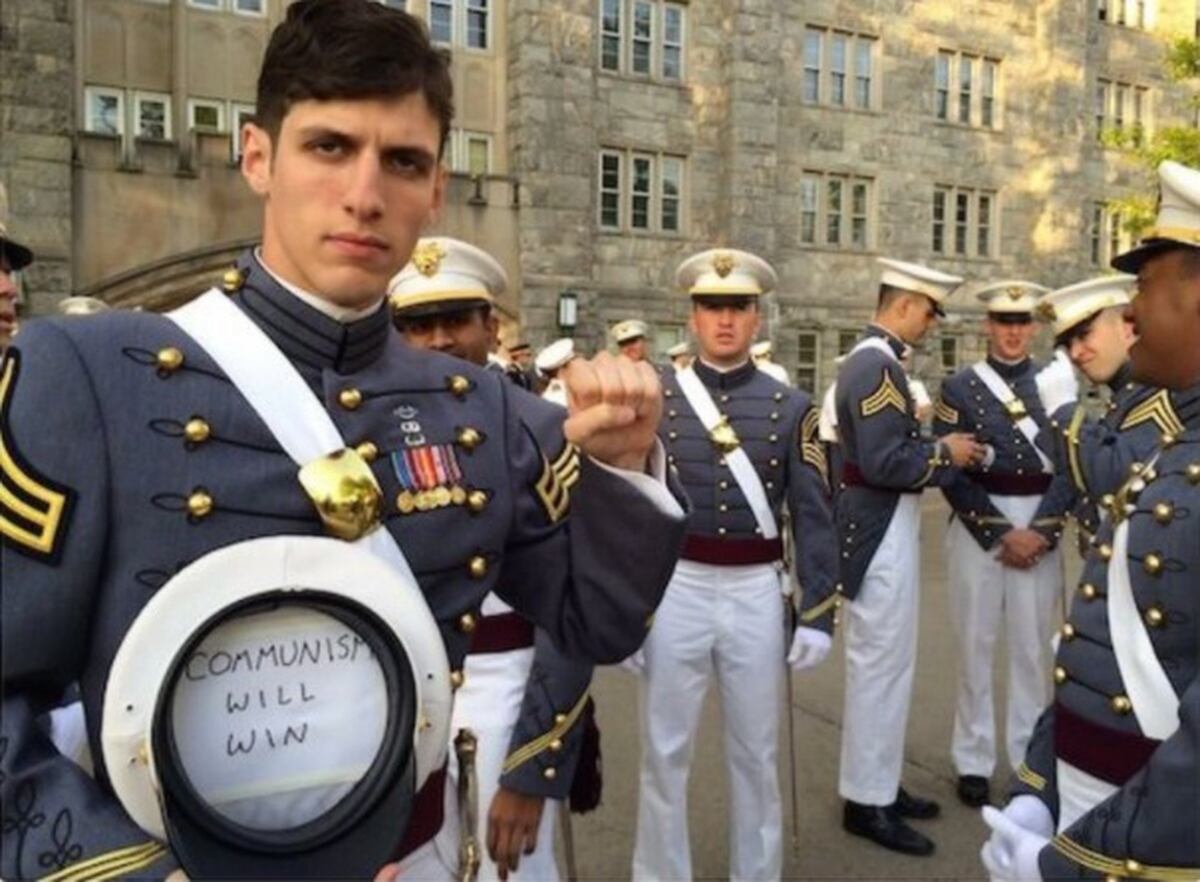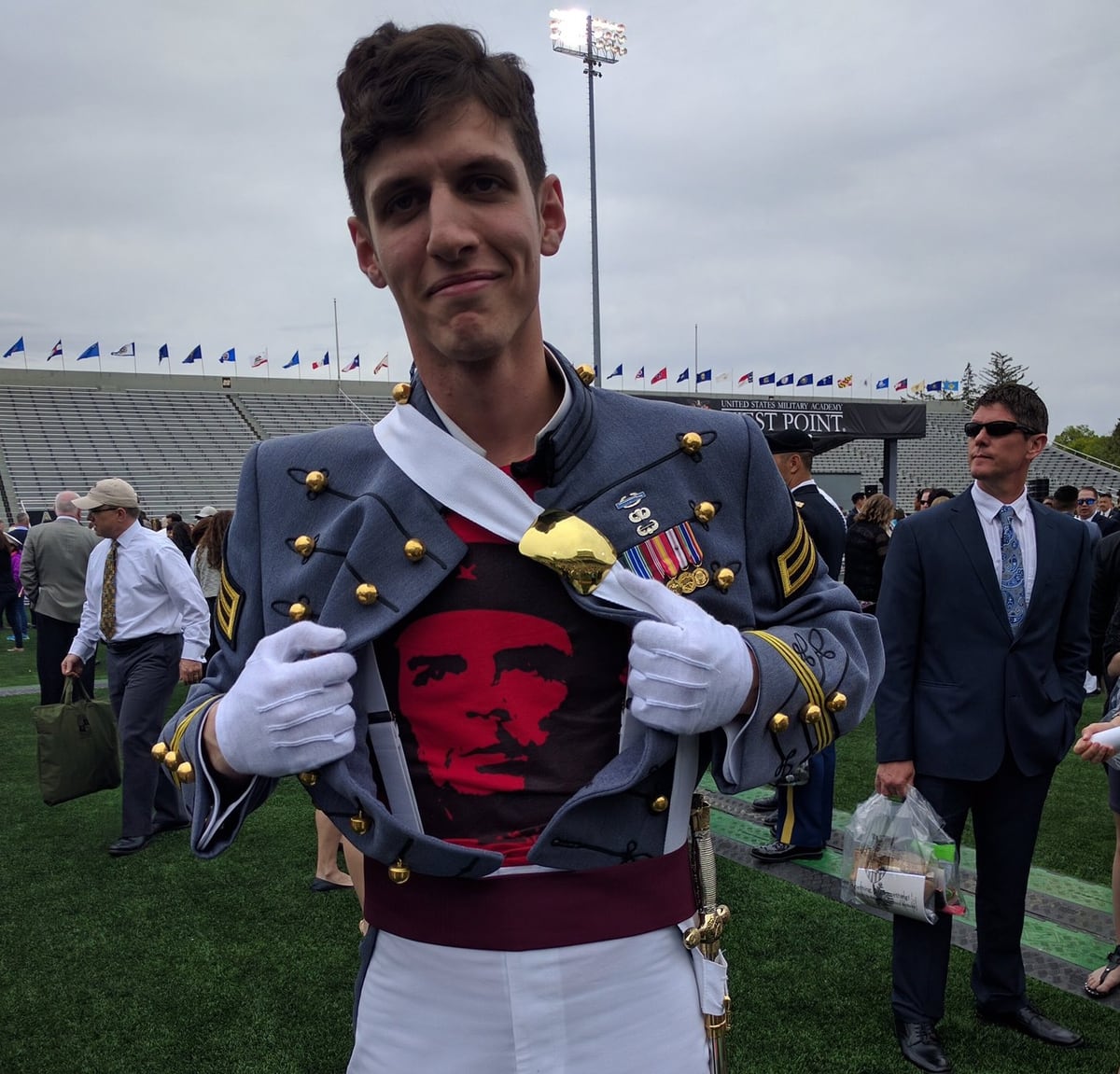 A quick qualifying remark. I write from the bleachers with a beer in one hand and a hotdog in the other as informed or ill-informed as my friends who came with me and the temporary friends that I'll make in the stands. I make observations about the game below and those playing it. But I am not a player, coach, or referee.
My humility now firmly established…
A few years ago pictures emerged of a West Point cadet, a young smirking fart-blossom, who at his graduating ceremony openly displayed his devotion to communism emblazoned on his under garments and the under side of his hat.
How is it possible that this freshly minted Lt. Trotsky was able to graduate from one of our premier military colleges? How is it that he went undetected by the West Point staff for four years and not given the boot for holding views that are wholly antithetical to the values our army exists to literally defend?
And was he a lone wolf or is he representative of a type? Are there more of him?
I think a comparison can be made between the Catholic Church and the U.S. military. It is safe to say that since WWII the Catholic Church in America has imploded institutionally. Or maybe a better metaphor is that it resembles a survivor of Auschwitz. The bones are still covered in skin and there must be functioning organs behind those ribs because the eyes blink every now and then.
The deterioration of the American Church lies squarely on the shoulders of American Bishops, who, like so many university presidents, as young men bought into the Enlightenment lock, stock, and barrel, and who see the advancement of its ideas as the greatest good; never mind the mission of the institution, which in the case of the Church is to save souls.
It looks to me like several generations ago good bishops allowed corrupt infiltrators into the priesthood, who then rose up in the ranks and then themselves drew others like them in and helped in their advancement. They worked parallel and in unison with other Progressives to effect the radical changes that have afflicted our society since at least the 1960's for sure.
In the Church, the general liberalisation of the bishops has resulted in the destruction of the faith of tens of millions of Catholics who naturally would not properly catechise their own children. This does not appear to bother American bishops who seem content to stay holed up in their cathedrals, all decked out in their robes, reclined on their throne sucking on the endowment through a four foot straw while being fanned by fawning milquetoast laymen.
Something like this is clearly happening in the U.S. military where Progressive ideologues, aided by ribbon-seeking-ladder-climbers, have risen to the highest ranks in order to transform it into an engine of social change and make it a reflection of our broken society rather than a defender of our broken society.
Consider another example related to Marxism and compare the ongoing feminisation of the U.S. military and the near take over of the Church in the U.S. by pro-homosexual bishops and priests including many that are practising homosexuals themselves.
As a man I despair, but as a Catholic I can believe that the Holy Spirit will protect the Church from the costumed wolves that have preyed upon the sheep for generations and that are now starving them. I am not so certain that the Holy Spirit is going to protect the U.S. military though.
It seems impossible that Christian leaders would ever deny sexual discipline as a core tenet of the faith. Likewise it would seem impossible that senior warriors in the U.S. military do not understand that combat is an extension of man's unique masculine nature and that to feminise the military is to mix clay and iron.
Just as the Church has in objective terms deteriorated because of the infusion of corrupt bishops promoting bad ideas, the U.S. military, by allowing itself to be infected by feminism, is setting itself up to have its britches pulled down and its ass blistered. It's one thing for the city to rot from within. But when the walls begin to crumble, you're in trouble.
M.C. Atkins
Follow me on Facebook by clicking here.
Follow me on Facebook by clicking here.